Yoga Studio Dubai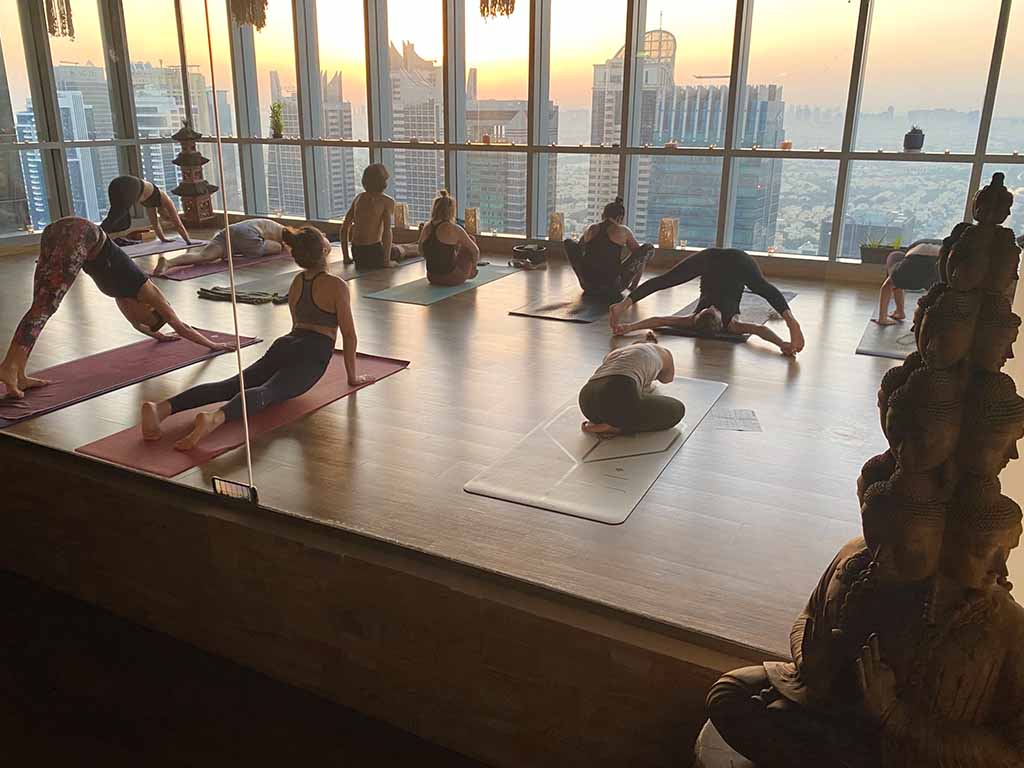 Karma Yoga is a sacred haven for people of all ages and all walks of life. We welcome all students and offer a variety of yoga, meditation, workshops, and other healing modalities to support, deepen, and meet your practice.
Our teachers are all fully-certified and unique individuals that wish to support you on your journey. Our classes will empower you and inspire you to be more confident, become more peaceful, live freely, and awaken you to discover your true potential. We are inspired by the magical island Bali, the island of Gods.
Let Bali Spirit Free your Soul!

KARMA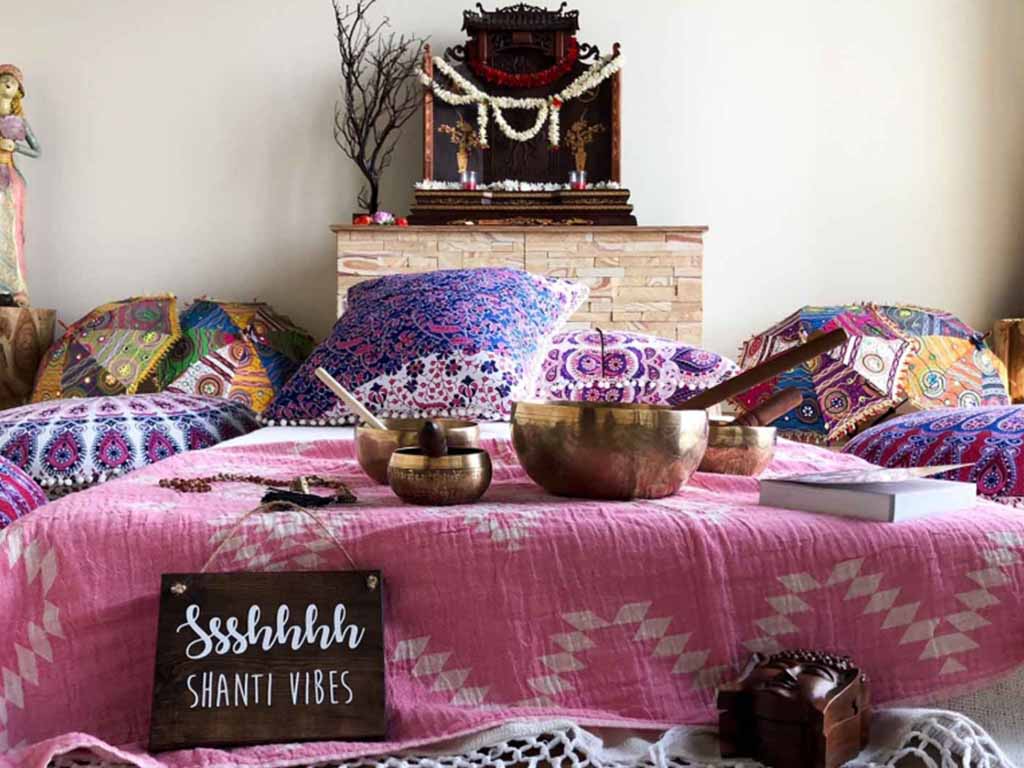 Karma is a Sanskrit term that literally means action or doing. In the Buddhist tradition, karma refers to action driven by intention which leads to future consequences. Whatever we put out in the Universe is what comes back to us. Hence Karma says: Be yourself and surround yourself with what you want to have in your life. Don't' forget When we change who and what we are within our hearts, our lives follow suit and change too.

Karma is our greatest teacher, making us accountable for what we do and giving us opportunities to learn from our mistakes and make amends.

So be Good and Do Good; It is a cosmic law; applies to everyone, everywhere, all the time.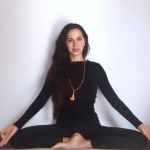 Ioana
Ioana is a certified yoga teacher with over 700 hrs training in various styles such as Ashtanga, Iyengar, restorative, yin, hot yoga, as well as myofascial release and yogic nutrition. She believes in a holistic approach that integrates healthy lifestyle habits into daily life.
Desire
With an academic background in Philosophy and a special interest in cognitive sciences, Desire was always curious and fascinated by the ways mind works and found in yoga a perfect playground for such explorations.
Yoga is an inquiry into what it means to be alive, embodied, sensing, experiencing, focusing, engaging and interacting with life. The practice of presence. My classes are relaxed explorations of this presence and are suitable for everyone. Sometimes strong and fluid & sometimes softer with long holdings but always slow and deep with emphasis on the experience of movement and sensations within.
I love the rhythmic fluidity of Vinyasa, the static strength of Hatha and delicious depth of Yin – whichever the style I teach I tend to offer a blend of movement sequences through which we are strengthening, stretching, balancing, expanding, grounding and exploring energies within, returning to ourselves.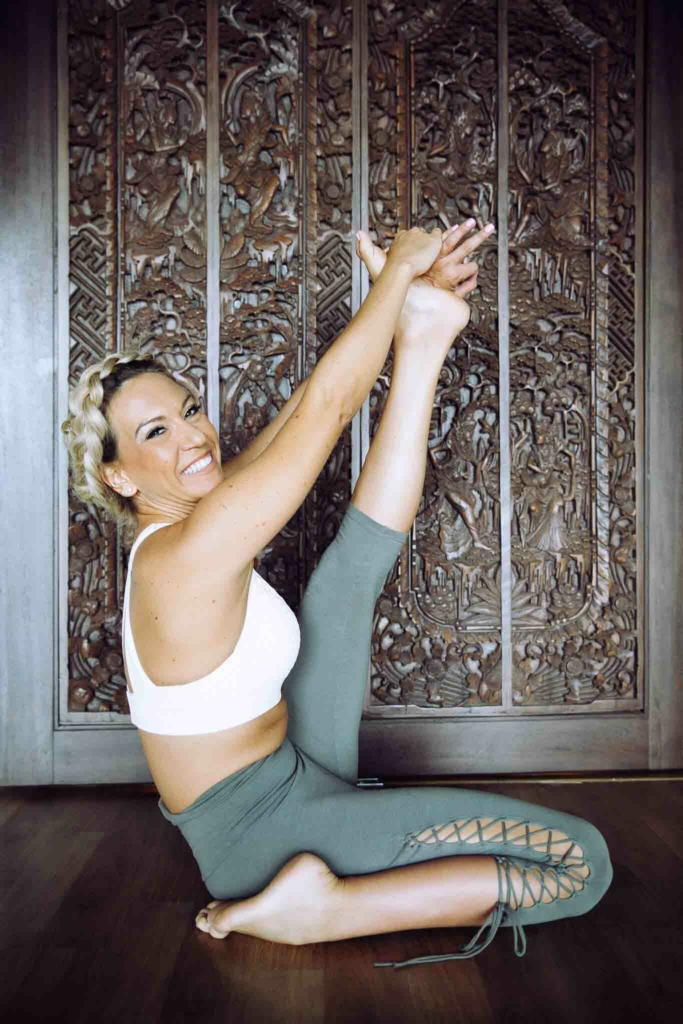 Vanessa
South African born yogi – Vanessa, realized how her previous job was taking a toll on her body and peace of mind, approaching burnout. Vanessa quit her job to find that mind, body and soul connection. She has since graduated from Absolute Yoga Academy. YA 200Hrs. Yin/Yang TT with The Yoga People. YA 200Hrs. Chakra and Crystal Healing Level 1. Thai Yoga Massage Therapy.
Vanessa continues to learn and study many related topics. She will be attending a 300Hrs advanced Teachers Training in July. Expect her classes to keep you energised and leave you in a sense of peace. For Vanessa yoga is physically, mentally, emotionally and spiritually fulfilling-The perfect antidote!
Karina
Karina's yoga journey started as a practitioner, staying for 7 years under her teacher's wing. Then she conducted her first training in Yoga Espacio (Mexico) from 2010 to 2012 and began her experience as a Yoga instructor in 2011. In 2014 she completed the second training in Ashtanga Vinyasa, under the instruction of Jamie Clark E-RYT 500 in Koh Samui, Thailand, specializing in the Rocket sequences of Larry Schultz.
In early 2018, Karina took a Yin Yoga training and months later traveled to Rishikesh, India for a 500 Hrs. YTT (Yoga alliance registered), being this last one the most nourishing learning experience of her life. Where else to deepen your knowledge in yoga if not from Indian culture and yogic teachers next to Mother Ganga river.
Dionne
Dionne is a full time yoga teacher based in Dubai with over 14 years yoga experience, with a fresh an uplifting style that supports her students in opening up to their highest potential.
She uses the breath with a creative combination of dynamic flowing movements peppered with focus on alignment of the body, mixed with some funky tunes to improve strength, flexibility and balance in the body and mind, in preparation to take you on a journey to your higher self (meditation). Her students leave her sessions feeling energised and exhilarated.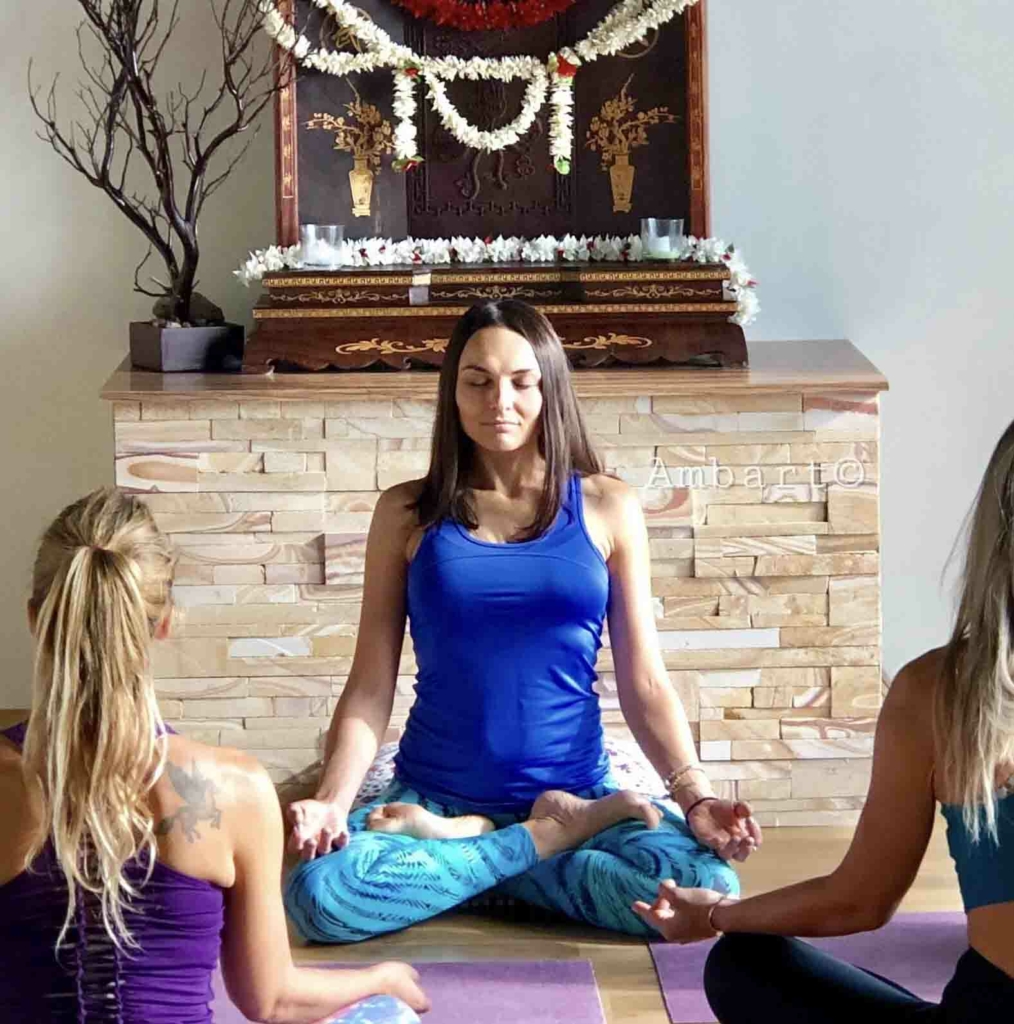 Alyona
My passion in life is to grow daily with my practice and to inspire people around me. With my own example, I wish to bring harmony to there life, to give a chance to find best of them. I think that yoga is the best for to achieve a balance in life.
By embodying the basic principles of Jivamukti yoga, in her classes, Alyona inspires those who are engaged in comprehending yoga not only as a physical aspect also as a spiritual practice, transforming the traditional methods of yoga into modern life and encouraging self-knowledge. Alyona has a kriya yoga initiation from Guru Shri Shailendra Sharma (India).
"With enough power of concentration on sequences, breathing thru the posture and practicing regularly will bring you to that yoga statement of The Moment where you feel absolutely in harmony. That is what you bring to your daily life and my target is to give you that platform for you to achieve that state of body and mind.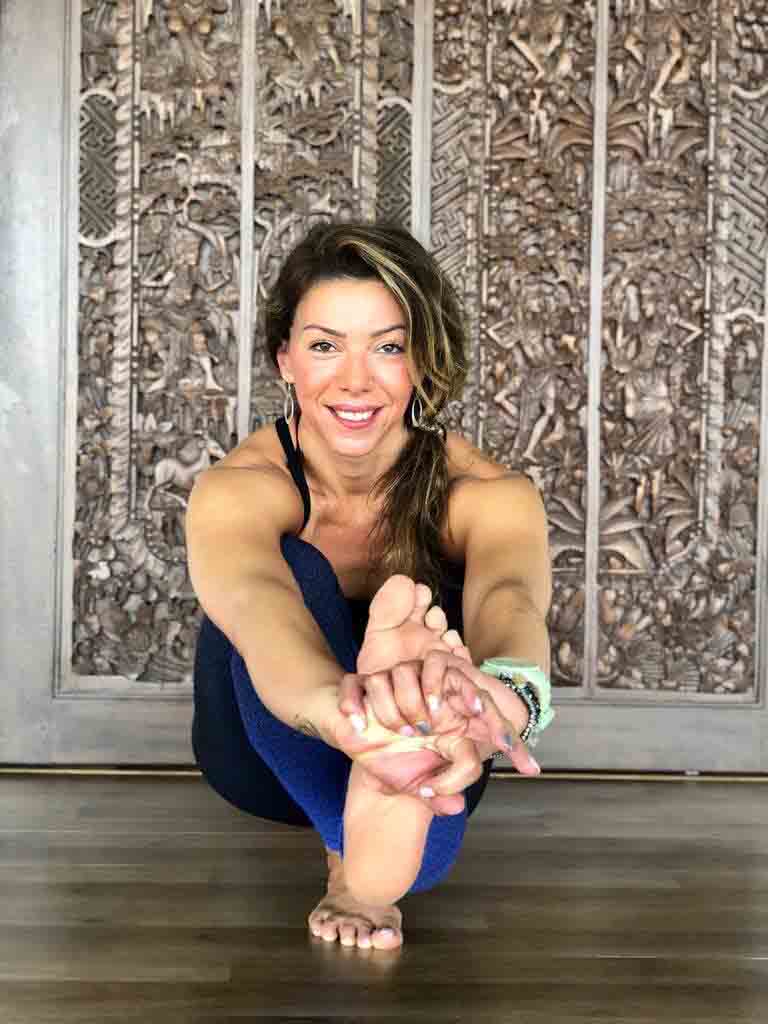 Dina
Dina is an archaeologist turned to a yogini with 14 years as a corporate executive in between ! With a passion for movement and art since her early years, Dina has always believed in diversification rather than specialization. She discovered yoga in 2002 and fell in love, almost, instantly with the discipline and traveled to India in 2009 to become a certified teacher. She continued pursuing her studies in Vinyasa Flow style with global teachers like with Nico Luce , Max Strom , Clara Roberts-Oss and Julie Martin. In 2015 she became a certified Aerial teacher – Another form of movement that makes her ..well .. fly high ! Dina's classes are focused on health and balance with a fun and playful edge. Her aim is to help students think outside the Box-Asana and expand knowledge about their own bodies by exploring different physical movement variations to find their "flow".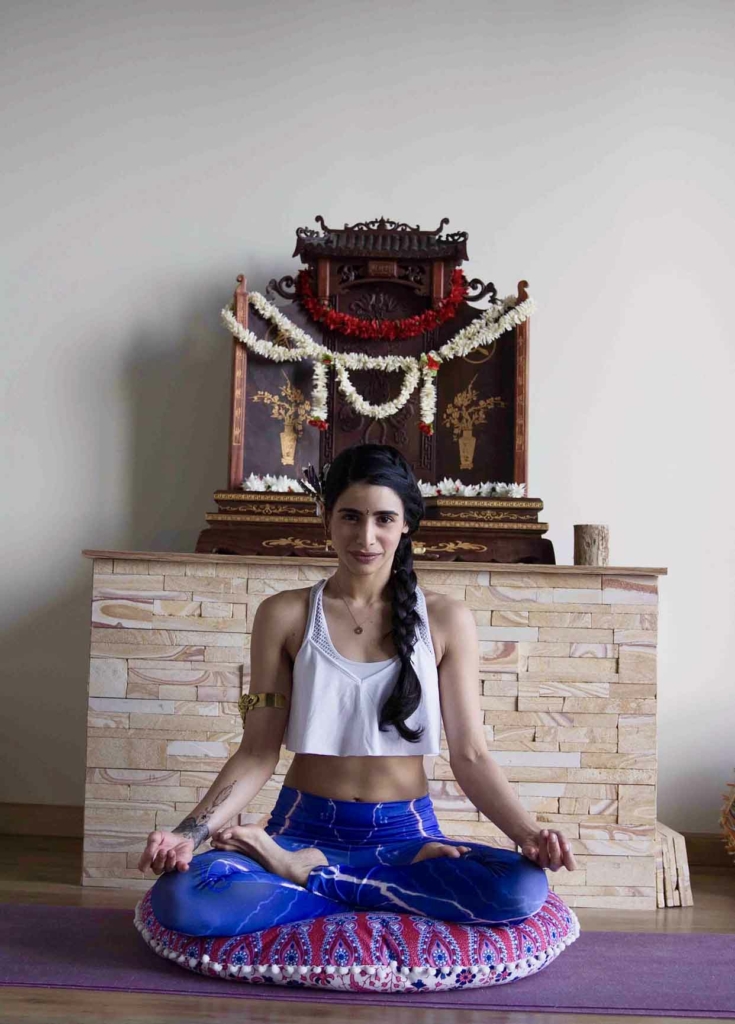 Soniya
Soniya's journey with yoga began almost 15 years ago, as a teenager. Being born & brought up on the coast of East Africa in Mombasa, she was always a natures child and believed in living in the moment. After moving to India in 2007 her love for Yoga then became a passion. She completed her formal teachers training in 2011- RYTT 200 Hour Hatha Yoga Certificate in Goa, India. She is also a certified Reiki 1 & 2 practitioner, Crystal Therapy 1 & 2 certified, Sound Healing Tibetan Singing Bowls Level 1,2 & 3 Certified, incorporating all into her classes.
Soniya believes in the soul being eternal and that we are all on this planet for a mission, the mission being- to be the best version of ourselves and reconnect to our spirit. Yoga is all about freedom and healing. Feeling free in your body and freeing you mind, healing yourself from within. Using asanas, meditation and pranaymas as vehicles to obtain this. Unity of the mind,body and soul taking us on the path towards pure Samadhi.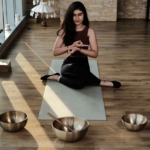 Isha
Born in the capital of India (New Delhi) and raised in Dubai. Isha was first exposed to Yoga in 2006 by her mother and she immensely fell in love with the practice, following which she received her 300 hour certification with Yoga alliance.
My Yoga practice became a special part of my overall wellness and connected many aspects of my life, and I am compelled to share this with others. I am passionate about bringing the traditions of Yoga to the people that I have the honour of teaching. I like to make my classes fully inclusive and create a safe place for everyone to explore and understand Yogic breathing, postures and philosophy. My foremost goal is to share the practice in a way that is accessible to all: to meet people where they are, as they are.
When you come to your mat may you find what you are seeking. Close your eyes, breathe, welcome home.
From my heart to your heart, Namaste.

Gallery

Terms & Conditions
GENERAL TERMS
All payments once processed are non-refundable under any circumstances.
Last admittance to class is 10 mins past the start of the class.
Bookings should be made online in advance to guarantee your space.
Workshops such as Sound Healing, Full Moon, Cacao Ceremony, etc… are not included in packages.
MYSORE Packages & Memberships cannot be utilized for Yoga/Swing/Barre Classes. Likewise Yoga or Swing/Barre Packages & Memberships cannot be utilized to access MYSORE Program.
Students must check in at the reception at least five minutes before the start of your class, even if you have an online booking.
All students must inform the teacher of injuries for the teacher to adjust your practice accordingly.
Karma Yoga reserves the right to refuse admissions.
CANCELLATION POLICY
In case of class cancellations, customers need to inform Karma Yoga one (2) hours in advance of the start of the class to avoid any charges.
Cancellation policy for packages: No-show's or late cancellation will result in (1) one class/day getting deducted from your respective package.
Karma Yoga reserves the right to cancel classes one (1) hour before the start of the class.
MEMBERSHIPS FREEZING
Freezing is allowable twice for the 12 months unlimited memberships. Total number of freezing days is 60.
Freezing is allowable once for the 1, 2, 3, 4 & 6 months unlimited memberships. Total number of freezing days is 30.
Mysore Freezing is allowable once for 3 months unlimited memberships. Total number of freezing days is 30. Freezing is not allowable for other Mysore memberships/packages.
RESPONSIBILITY
Karma Yoga waives all liability from clients who do not follow the instructed class or has not disclosed medical conditions or recent injuries. Please do be aware that it is the student's responsibility to inform the instructor if you feel unwell or any discomfort.
By using Karma Yoga facilities you accept that there is a risk associated with all forms of exercise either during or after.
It is the student's responsibility to practice within their personal limits and to decide, whether or not to follow the advice and guidance provided by the yoga teacher.
Any personal injury or fatality incurred before after or during the classes would be under the student's sole responsibility, where Karma Yoga and its teachers hold no liability.
Please do not touch any of the displayed artifacts, statues and artwork.
Mobile phones should at all times be kept on silent mode within the studio. No phones allowed in the practice rooms.
LEFT PROPERTY
Karma Yoga accepts no responsibility for any property left, theft or damaged property on the premises. Please be responsible for your belongings. Please maintain your valuable within the designated lockers, ensure lockers are properly locked and return lockers keys to the reception after use.
Terms & Conditions are subject to change

Direction: From Marina Mall go to G floor look for H&M and La Senza, between those shops exit the mall and on the right a connection to Marina Plaza.
Paid Parking: Marina Plaza – First Floor
Free Parking: Marina Mall